Remembering Bhai Subeg Singh and Bhai Shahbaz Singh this Father's Day.
First ever online movie premiere by Vismaad

This Father's Day let us be inspired by Bhai Subeg Singh and Bhai Shahbaz Singh showcasing an ideal relationship of a father with a son.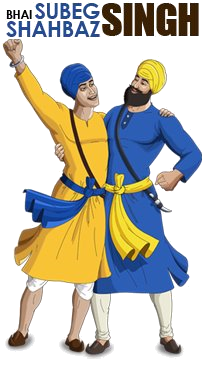 Vismaad takes pride in presenting the first ever online Premiere of the movie "Bhai Subeg Singh Shahbaz Singh". This online premiere is dedicated to SikhVille.org - the soon to be launched project of Vismaad.


Click to watch the online premiere
The movie showcases an amazing chapter of Sikh history highlighting how Bhai Subeg Singh Ji imparted both worldly and spiritual wisdom to his son Bhai Shahbaz Singh Ji. With the grace of Almighty, they shared not only the delight of living a Gursikh life but were awarded martyr together. The animated movie on this great epic of the father son duo by Vismaad is an inspiration for sikh parents and children alike.
Watch the free screening of the movie together with your family on our upcoming portal Sikhville.org. Don't forget to subscribe to get all our updates.
http://www.sikhnet.c...baz-singh-movie
Edited by JSinghnz, 18 June 2013 - 04:47 PM.